Denmark is one of the most popular international study locations in Europe thanks to its low study costs, high-quality English-taught Master's degree courses and innovative teaching methods. The very good standard of living and diversified study subjects make Danish universities important contenders on the international higher education market.
If you're thinking of studying abroad in Denmark, finding out detailed information about tuition and living costs in Denmark will help you make an informed decision for your future. Read below estimates of tuition fees, accommodation costs and expenses for food, transportation and extra study materials for students planning to take a Bachelor's or Master's degree abroad in Denmark.
Compare Bachelor's degrees in Denmark
1. University tuition fees in Denmark
Higher education in Denmark is free for all Bachelor's and Master's students coming from the EU/EEA area and for students participating in an exchange programme in Denmark.
Average tuition fees at Danish universities
You also do not pay tuition fees if you have either a permanent or a temporary residence permit or if one of your parents is from a non-EU/EEA country who is already working in Denmark.
Tuition fees for non-EU/EEA students in Danish education institutions
Cheapest degrees: fees start from around 6,000 EUR/academic year
Average annual tuition: around 12,000-15,000 EUR/academic year
Highly specialised courses: can reach to over 35,000 EUR/academic year
Check out more details about tuition fees in Danish universities.
Tuition-free universities for EU/EEA students
Examples of free universities in Denmark for EU/EEA students:
Tuition fees at top-ranked universities in Denmark
Here is a list of average tuition fees at the top-ranked Danish universities for international students(non-EU/EEA):
2. Student living costs in Denmark
Average living costs in Danish cities
Although Denmark's no tuition fee policy is very attractive to EU students, the high quality of life also means living costs and average prices are generally higher than in most places, well above the European average. To be able to meet these costs you will have to carefully budget your monthly expenses.
A rough estimate of your overall monthly living costs in Denmark would amount to 800 – 1,200 EUR monthly.
Living costs in Copenhagen: more expensive than in the smaller cities, may go as high up as 1,100 - 1,800 EUR/month.
Living costs in Aalborg: you can keep your costs lower at around 800 - 1,100 EUR/month.
Accommodation costs
Out of the total monthly expenses of EU students, they usually pay around 36% on accommodation. You will pay an average of 400 – 600 EUR/month for accommodation and utilities, and up to 800 EUR in Copenhagen.
If you start looking for housing early, you may be able to find places with 250 EUR/month in housing outside the city.
Main accommodation options for students in Denmark:
Students living alone – 450 EUR/month
Students living with partner/children – 500 EUR/month
Student halls of residence (kollegier) – 250-300 EUR/month
Getting student accommodation from the university is not always easy, as European statistics show that around 11% of students living in Denmark manage to get a place to live provided by the university. However, around 68% of students are really satisfied with the living conditions in university student halls, above the European average. Therefore, you might have to rent a place from a private land owner.
Check out the experiences of these students that followed a degree in Denmark:
Food costs
Average food expenses in Denmark will amount to 200 – 270 EUR/month, depending on your spending habits. You can find lower grocery prices at discount supermarkets such as Bilka, Lidl, Netto, Fakta or Aldi.
Dining out in the city costs on average 30 EUR/person, and a beer or a soft drink at a bar is around 5 EUR.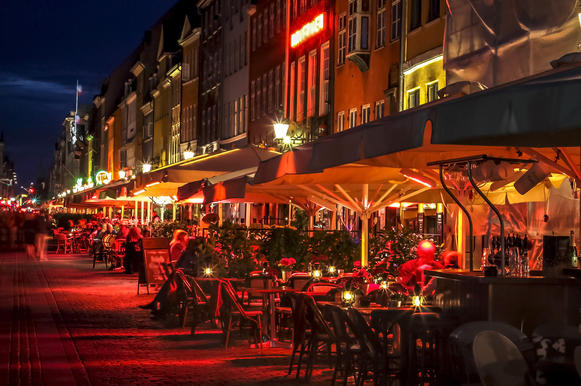 Transportation costs
In Denmark, almost 50% of students use bikes to get to their university, while 30% use public transport.
A monthly public transport pass on the bus, metro or train amounts to 50 EUR/month.
Denmark and particularly Copenhagen are the heaven of bikes, presumably outnumbering people, so you can rent a bicycle, starting from 15 EUR for half a day.
Extra costs and savings
You would need to spend some money on books and other study materials, around 35 EUR/month.
A standard health care insurance would cost around 26 EUR/month.
On average, for moderate social activities, students usually spend between 120 and 175 EUR/month.
If you purchase an international youth travel card, you can get major discounts to visit sights around Denmark.
3. University scholarships and grants
There are several ways of covering your expenses while studying in Denmark:
The Danish government offers financial support to EU/EEA students that are active in the Danish workforce. Students receive the equivalent of 80 % of the maximum unemployment benefit rate standard set in Denmark.
Applicants should meet certain requirements such as: have at least 25 years old, must not receive other forms of public funding and have a minimum of 26 weeks of work experience.
Erasmus Mundus Scholarship Programs in Denmark - both EU/EEA and non-EU/EEA students who apply to a Master's degree that is offered jointly by a Danish institution and another European university are eligible for a scholarship. Check the list of partner universities in Denmark.
Check out other scholarships offered to students in Denmark.
4. Visa fee for Denmark
Ready to study in Denmark? Don't forget that if you are not from the EU/EEA you have to apply for a student visa which costs 310 EUR. Here's some more helpful information like the best Scandinavian universities, applying for the student visa in Denmark, or enrolling in a Danish university. In the meantime, you can check some details about the Danish student visa requirements based on your nationality: