Australia is one of the countries that charm international students through its impressive natural landscapes, high quality of life and efficient education system. Australia is home to several high-ranked universities, offering a welcoming and supporting environment and teaching and living conditions that students often praise.
General living costs may be a bit of a challenge for foreigners in Australia, but even so, the country has managed to attract a record number of international students, over 600,000 in 2015.
Read below to find general information about tuition, overall living expenses and scholarship opportunities for studying abroad in Australia.
1. University tuition fees in Australia
Australia has around 40 public universities, two international and one private university, providing any type of study degree you can imagine, from business and engineering to history and arts. Tuition fees range depending on the discipline you choose to study, degree level and university.
Australia is one of the most expensive countries when it comes to university costs, as the average tuition fee for one academic year is 33,400 AUD.
Average tuition fees for full-time degrees:
Bachelor's degree: between 15,000 and 33,000 AUD/year
Master's and PhD degree: between 14,000 – 37,000 AUD/year
Most affordable universities in Australia
Check the list of Australian universities with the most affordable tuition fees:
Tuition fees at top-ranked universities
Here is a list of average tuition fees at the top-ranked Australian universities:
Find detailed information about fees at best ranked Australian universities.
2. Costs of living in Australia for international students
Average living costs in Australian cities
Generally, students living in Australia would need between 1,500 and 2,500 AUD/month to cover all their living expenses, including accommodation, food and social activities.
Check the average budget you would need for each of the most popular student cities in Australia:
Accommodation costs in Australia
Most universities only provide a small number of student dormitories for on-campus-accommodation in Australia. The majority of international students find housing in a homestay with a local family, a rental property or a guest house.
Most common accommodation options for students in Australia:
Home stay: costs around 440 – 1,080 AUD/month
Guest houses: prices are between 320 and 540 AUD/month
Student halls of residence: rates start from cost 320 and lead up to 1,000 AUD/month
Rent an apartment: average prices of 1,700 AUD/month
Prices also vary depending on the city; for instance, renting an apartment in Canberra can cost you between 1,400 and 1,700 AUD/month, while Sydney is the most expensive city, especially accommodation wise. Prices for rent for a single bedroom flat can reach up to 2,200 AUD/month.
Other costs associated with accommodation
Apart from rent, your accommodation requires some extra expenses, such as:
utilities: up to 200 AUD/month
internet pass: costs around 70 AUD/month
Food costs in Australia
Groceries are available in local supermarkets and usually require around 100 – 200 AUD/week. Save some money and do your shopping at the cheapest supermarkets, like Aldi, Coles and Woolworths.
The average cost of a meal in an inexpensive restaurant costs 18 AUD while a three-course meal for two is 80 AUD.
Due to the fact that Australia counts a large number of Asian, Greek and Italian population, you can choose from plenty of Asian, Greek and Italian restaurants and taste the specific cuisine.
Transportation costs in Australia
Some universities have a private transport supplier that helps students who stay on campus or have to reach some difficult areas. The Australian government offers free transport to international students who enrol in the ACTION programme.
Depending on the area you are living in, you can benefit from other discounts from state programmes such as QLD (Queensland), SA (South Australia) or VIC (Melbourne).
Otherwise, a public transport pass for students would cost between 30 and 70 AUD/month, depending on the city.
You can also get around the city using a bicycle and Melbourne is one of the most bike-friendly cities; you can rent a bicycle with around 40 AUD per day.
Extra costs
Books, supplies, and other learning materials: from 500 to 1,000 AUD/year.
Health insurance: rates start at 30 AUD/month
3. Funding & student support
The Australian government supports international students and grants them enough choices in aid for their studies; annual state investment exceeds 200,000,000 AUD.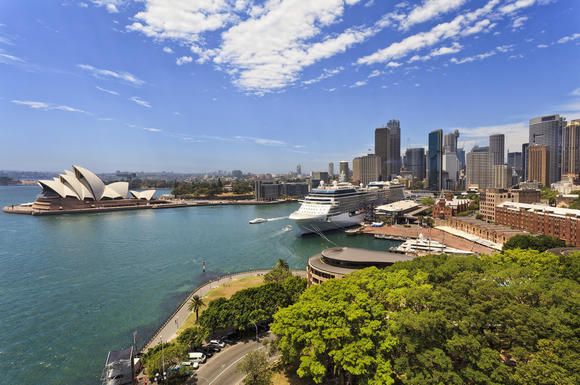 Examples of scholarships for international students going to Australia:

Australia Awards - scholarships and fellowships funded by the Australian Government that cover full tuition fees, travel expenses and part of the monthly living costs among others.
APEC Women in Research Fellowship Program –financial support dedicated to female researchers from developing APEC economies who plan to pursue a research programme in partnership with Australian universities and research institutions.
Endeavour Postgraduate Awards – offers financial support to international students who enrol in a Master's or PhD degree. The scholarships include tuition fees, travel allowance, establishment allowance, monthly stipend as well as health and travel insurance.
Find more scholarships in Australia!
4. Visa fee in Australia
Now that you have an overview of tuition fees and living costs in Australia, you can start applying for a degree. Just remember to also check the Australian student visa requirements based on your country of origin:
The Australian student visa fee is 363 EUR.