Zain is currently pursuing his Master's in Water Resources and Environmental Management at Leibniz University Hannover. He found the programme and enrolled via Studyportals. We asked Zain about his experience of searching and applying to a university abroad.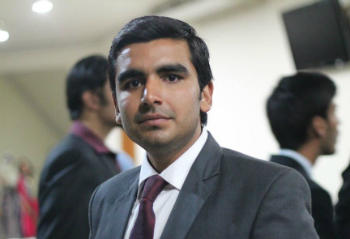 My Story
Tell us a bit about yourself. What is your name? How old are you? Where are you from?
I am Zain Javed. I am 21 years old and I come from Pakistan.
Where are you studying now? What university and programme did you enrol in? What degree are you pursuing and how long is your programme?
Currently I am enrolled in a Master's programme in "Water Resources and Environmental Management", at Leibniz University Hannover. The duration of the program is 2 years. From Sep. 2014 to Sep. 2016.
Why did you want to study abroad?
My university experience has enabled me to have a wide perspective of multidisciplinary research and explore areas for improvement and identify applications of new technologies in collaboration with engineers.
Now, I would like to enhance my understanding by learning from a broader perspective. I strongly believe that I have the basic understanding, necessary communication skill and the ability to pay attention to detail. To fulfil my ambitions, I applied for this opportunity.
Searching for study options
How did you find your study programme? Why did you choose this particular university? How did StudyPortals help you?
StudyPortals is indeed a platform that greatly helped me while deciding on my future higher education. I selected that programme because I had an opportunity to continue my studies in my desired programme and place.
Did you know about that university and/or programme before seeing it on Studyportals?
Yes, I knew the university and programme before, but Studyportals made easier for me to apply.
On what stage of application were you using Studyportals? Did you miss any important information on Studyportals?
I took guidance from StudyPortals when deciding to apply for further studies. I found Studyportals to have sufficient information for visitors.
Deciding for a university
What were your main priorities when choosing your university and your programme (e.g. academics, accommodation, university services & facilities, personal & professional development, city & culture, cost & funding, practicalities, social life)?
Choosing this university was not a difficult task for me, as I had a clear mind about the programme and the country. So academics, personal and professional development and social life were the contributing factors in my decision.
Was it your first study choice? What other universities did you consider? What was the main reason of your final choice?
This university was my ultimate choice. I also applied and got selected at TUM Germany.
Did you already know from the start that you wanted to study in that particular country and city? Why did you choose this particular location?
Studying in Germany was my initial goal, so I focused on studying there.
Did you do a language test (e.g. TOEFL, IELTS) when applying for the programme? If yes, which one did you choose, why and how was your experience with it?
I had taken the IELTS Test with a 7-band score. The score was not really impressive, but it was a good experience, anyway.
Book an IELTS test in your country!
Recommendations
What would be your advice for students from your country that consider to study abroad?
I would advise every student in the world to go study abroad, as this gives you a broader outlook on life, and an opportunity to interact with people of different values and different cultures.
How did you finance your stay abroad and what financial advice would you give to future students?
I hold a small part-time job in Hannover. I would recommend having sufficient resources to finance yourself for the duration of your studies, because it is not always easy to earn enough to support yourself.
Why would you (not) recommend this particular city / university? How would you rate your experience on a scale from zero to ten (0 – It was a total disaster, 10 – I had the time of my life)?
I would recommend Hannover, Germany for sure, as it is a nice place to live in, to study and work. I would rate it a 10.
Is there anything that you would do differently if you could do it over again?
If I would have a chance to go back in the past, I would get enough German language skills before coming to Germany.
What was the biggest surprise in your study abroad adventure?
Germany is the country of opportunities. Social life in Germany was something really surprising for me.
Were you inspired by the story of Zain Javed?