The United States remains one of the top international student destinations in the world in spite of recent controversial measures regarding visa restrictions. The appeal the U.S. presents to international students is its wide variety of study programmes and universities, top-ranked degrees, well-equipped laboratories, generous PhD funding and the chance to know cultures from all over the world.
Contrary to expectations, the U.S. visa application process is also fairly transparent and straight-forward compared to other student destinations.
Find Masters in the United States
Now, let's discuss the main steps you need to take to get your United States student visa:
1. Decide on a university to apply to and get your acceptance letter
If you're still not sure where you want to study in the U.S., you will have to decide before you can apply for the student visa. You'll need an acceptance letter (I-20 form) from the university to start your visa application process.
Consider some top universities in the U.S:
2. Find out what visa type you need
There are three different student visas that you could be issued for international students coming to the U.S.:
F1 Visa - issued to students who are attending an academic program or English Language Program, valid until the completion of your study programme
J1 Visa - for exchange students
M1 Visa – for students who plan to attend a non-academic (technical) or vocational school
We will be focusing on the F1 Visa, as this is the most common study visa for the U.S., specifically designed for full-time academic degree studies. Anyone who is not a citizen of the USA will need an F1 Student Visa to attend a university or college in the States.
3. Learn what conditions you need to meet for the U.S. student visa
Applicants must satisfy several strict criteria in order to receive the visa, including:
Students must have a residence in their home country, where to return after completing their studies.
Students may only study at the accredited academic institution (SEVP approved schools) through which the visa was granted.
Applicants must demonstrate sufficient financial support. Unfortunately, the required monthly amount is not officially defined.
All applicants must demonstrate that they have strong ties to their home country, such as a job offer letter upon completion of studies, personal assets (i.e., house, land, vehicle, etc.), bank accounts, family, etc.
Additional documents may be required depending on the country you are applying from.
Speaking English is not a requirement for a student visa, but it will be a requirement for your university admission.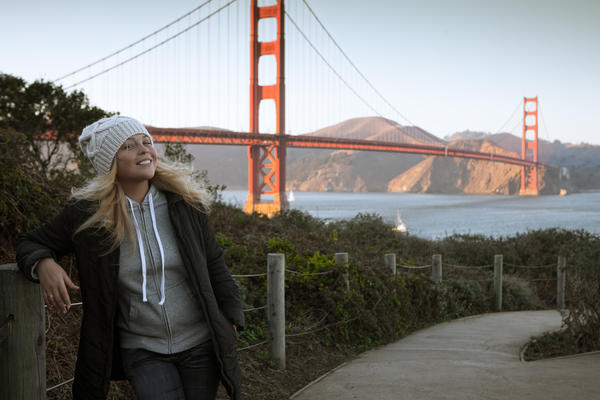 4. Gather your visa documents
Although the process may vary or require additional steps, depending on your country and embassy or consulate, you will need the following when applying for your student visa:
Certificate of Eligibility for Non-immigrant (F-1) Student Status (Form I-20), received from your university (pay 200 USD SEVIS fee)
Receipt of paid application fee of 160 USD for the U.S. Embassy in your country
Submit Online Form DS-160 for a non-immigrant visa, and bring it to your interview
Passport with a validity date at least six months beyond your intended period of stay in the United States
Old passports
Documents that prove your financial situation (bank statement), or financial support during your studies
Standardised recent digital colour photo
Transcripts, diplomas, degrees, or certificates from schools you attended, or standardized test scores
Find over 200 scholarships offered in the United States!
More country-specific details about the U.S. student visa
Here are other detailed descriptions of the United States visa application process based on your nationality. You may want to skip over the general U.S. visa requirements and jump straight to the dedicated visa information you need:
5. Take the F1-Visa interview
Your F1 visa interview will determine whether you are qualified to receive a USA F1 student visa. Digital fingerprint scans will be taken for records. Your passport will be taken so that you can get your visa and you will be informed when you can get it back.
Bring all of the required documents and receipts. A letter from a university professor supporting your study plan can be useful. You will be required to answer personal questions about your decision to study in the U.S. If you are unable to answer the questions in English, you can ask for an interpreter. The interview will not be longer than 5 minutes.
Interview questions will focus on
Why you chose to study in the U.S.
Academic qualifications (test scores) and questions about the university you enrolled in
Ties and obligations that ensure your return to your home country, after graduation
Proof that you have the means to finance your education
Based on your answers the consular officer will approve or deny your student visa application. You need to convince him or her that you plan to return to your country after your years of study in the United States.
Tips for passing the student visa interview
Dress formally for your interview. First impressions can be crucial.
Practice your English before the interview. While this is not a requirement for approval, it can create a good impression and stress your commitment to studying in America.
Know the programme you are applying for, and how it fits your career plans.
Be to the point, as there are many student visa applicants and visa officers are under a lot of time pressure.
Make it easy for the visa officer to browse your documents.
Keep a positive attitude. If you are denied the visa, ask for additional documents you could bring in order to contest the refusal.
If your spouse and children are remaining behind in your country, be prepared to explain how they will support themselves in your absence.
View Masters in the United States
6. Make sure you know the advantages and restrictions of your visa
The student visa is valid for the duration of your studies. You may stay in the States as long as you are a student.
After students have completed their degree in the U.S. they are allowed to stay in the country for an extra 60 days, to prepare for departure or transfer to another school.
F1-visa students may only get part-time employment on-campus (fewer than 20 hours per week).
You will be allowed to arrive in the U.S. 30 days before the start of your classes.
To keep your student visa you need to remain enrolled and maintain passing grades at your university. If you are unable to complete your programme in the previously set time, your international adviser can help you request a programme extension.
If your passport expires, your country's consulate or embassy can help you extend it.