Andrei is currently pursuing his Master's degree in International Management at the Alpen-Adria University in Klagenfurt. He found this programme and enrolled via Studyportals. We asked Andrei about his experience of searching and applying to a university abroad.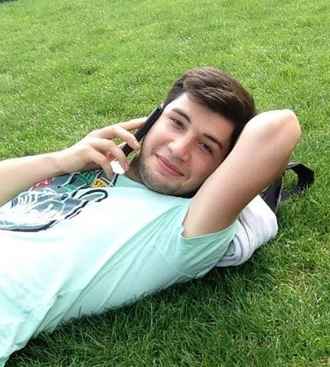 About you
Tell us a bit about yourself. What is your name? How old are you? Where are you from?
Hi there! My name is Andrei-Marcel Tit, I'm a 23 year old Master's student from Oradea, Romania.
Where are you studying now? What university and programme are you enrolled in? What degree are you pursuing and how long is your programme?
I am currently doing my semester abroad in Berlin, Germany, at the Berlin School of Economics and Law (or Hochschule für Wirtschaft und Recht – HWR – in German). This exchange semester is mandatory, as part of the International Management Master's Programme at the Alpen-Adria University in Klagenfurt, Austria, where I'm currently enrolled as regular international student.
The programme is taught completely in English, with a focus on South-East and Central-East European Countries (SEE-CEE), comprising together four semesters and making it into the CHE-Ranking as number 8 out 12 best Master's degree programmes of the 2014/2015 academic year.
Why did you want to study abroad?
Ever since my first experience abroad as an Erasmus student three years ago, I developed a strong flair for internationalism and cultural awareness. The broad range of ideas, level of energy and fast pace of change that stem out of these multi-cultural places, also referred to as "melting pots", are amazing, beyond description. The lessons learned are invaluable. Therefore, it was natural for me to get back into this kind of environment, to develop myself both personally and professionally.
Did you find your study programme on Studyportals? How did Studyportals help you in your decision process?
Studyportals was my corner stone platform for searching courses. The advanced search is really useful as it gave me the option to navigate and compare through different types of Masters, according to specific criteria, such as costs, requirements and so on. Too bad I couldn't find a scholarship through them. Would have been helpful. Nevertheless, the website is a game changer indeed.
Deciding for a university
What were your main priorities when choosing your university and your programme (e.g. academics, accommodation, university services & facilities, personal & professional development, city & culture, cost & funding, practicalities, social life)?
My main priority was academics. I wanted to acquire a M.Sc. in international management in order to have a better understanding of how to better lead people from different cultures and how to successfully manage innovation processes that span across more than two countries. Language was decisive too. I am fluent in German and I wanted to leverage this skill into my personal interest, especially when it came down to working. Consequently, I was able to have several small jobs and make some pocket money in between studying. Not to mention that I've been living in Austria as an Erasmus student before, so I knew more or less about the culture and its peculiarities.
Finally, costs had to be taken into account as well. Even though not quite cheap, a rent in Austria (~ 250-300 EUR/room) is definitely more affordable than in Scandinavia, the Netherlands or Italy, for instance.
Was this your first study choice? What other universities did you consider? What was the main reason of your final choice?
Unfortunately not. My first study choice was Humboldt University in Berlin, but I applied too late. My bad, I take full responsibility for it. My second choice was Johannes Gutenberg University in Mainz. I succeeded in passing through the 1st stage, but I didn't pass the 2nd one as I didn't fulfill the GPA criteria (1,3 was required; I had a 1,7). Alpen-Adria University was my final choice, and I was glad that I got accepted. I really wanted to go abroad for my Master's degree, no matter what. This programme would become my "ticket".
Did you know from the start that you wanted to study in that particular country and city? Why did you choose for this particular location?
Austria was definitely not my first choice, but it was on the list, alongside the Netherlands and Sweden. Germany was my #1 priority, because it had and still has top R&D capabilities and a strong start-up/entrepreneurship network and mentality. Berlin was representative in this sense. However, since I missed the enrollment date, and was not accepted in Mainz, I wanted to study in Austria.
Graz didn't have a programme taught in English, so I decided for Klagenfurt, which was not too far away from it. And yes, you might ask yourself why didn't I do my Master's in German? I wanted to have a global education and since most of the scientific papers and innovations come largely written, detailed and tinkered in English, this had to be the language of choice.
Did you take a language test (e.g. TOEFL, IELTS) when applying for the programme? If yes, which one did you choose, why and how was your experience with it?
I took a TOEFL IbT test three months prior to the official semester start. Most of the programmes don't require that you have a language certificate at the moment of applying, but if you do get accepted you need to have it before the semester starts, otherwise you lose your place which gets redistributed. TOEFL IbT was quite easy for me and I didn't have to prepare too much as I would have done for IELTS. I would say it's quite doable, provided that you have more than sufficient knowledge of English.
Recommendations
What would be your advice for students from your country that consider to study abroad?
Check the masters you want to apply for at least one year prior to your moment of application. If you apply for universities in Germany through the DAAD foundation, 1,5 years is the norm. They all have different criteria and application deadlines, so being prepared is the only option. The early bird catches the worm, after all. Please do possess language certificates. I recommend TOEFL IbT, because it's quite easy to obtain it. Plus, the process in itself is stress-free, there are a lot of centers across the whole country, the fee is quite affordable (~200 USD) and the certificate is issued after 1,5 months.
Keep in mind, though, that it is only valid for two years, so choose the date of examination wisely.Take into account your level of tacit knowledge regarding the future host country. How well do I know the foreign language? Am I able to integrate myself easily within this culture? Do my present and future goals align with this stay here? How can I benefit from it? Would I consider it my second home? DON'T apply through application agencies.
Do the research yourself. It will be stressful, but at least you will save some money (~300-400 EUR - that's how much an agency will usually ask for its services). There's no shortage of good resources (Studyportals is an example, but the list goes on and on). Take the time and effort to make it work. Preparation really matters!
How did you finance your stay abroad and what financial advice would you give to future students?
I am blessed to have wonderful parents that have sustained me during my whole first year; therefore, I am forever indebted to them for their generosity. I had small jobs, too, but they didn't help too much.My best advice is to look for a scholarship. In this way you don't have to juggle between your school schedule and a job. Most of the times the schedule will be too tight and will make it difficult for you to have a job (that was my case, sometimes having class until 6 PM). You will resort to seasonal or weekend jobs, which are generally paid badly. But this is not necessarily the norm.
I found out over the years that you can gain more tacit knowledge at the workplace rather than in school (at least in the case of business, and also provided that you practice what you are studying). Just be sure to speak the language really well so you can maximize your chances for employment.
Finally, schedule your timetable accordingly in order to have a good studying-work balance.
Why would you (not) recommend this particular city / university? How would you rate your experience on a scale from zero to ten (0 – It was a total disaster, 10 – I had the time of my life)?
Klagenfurt is definitely the best choice for people who enjoy nature and silence. Google the place and convince yourself. But don't be fooled. The town is really small (~100.000 inhabitants) and quite touristic and lively only in the summer. The rest of the time it's quite empty. If you enjoy big cities, a fast pace of change and basically more action in your life (like me), then Klagenfurt is not the choice for you.I would rate my experience a 6,5. The town was quite small and boring for me and it is quite difficult to find a job if you didn't know somebody. Locals are also a bit reluctant to foreigners, because of the town's size, I would assume.
Is there anything that you would do differently if you could do it over again?
Yes. Aim higher! Don't get me wrong. I don't necessarily regret going to Klagenfurt. I met amazing people, have some really nice memories and I am in Berlin now where I wanted to be from the beginning; but if I had the chance to do it over again I would aim higher. Remember folks, always think in 10X terms. Set goals which are 10 times bigger than the normal ones, because even if you fail, you will be far more ahead than your initial goals (e.g. 2X, .. 5X, .. > 1X).
What was the biggest surprise in your study abroad adventure?
To find out that I could do more than I initially thought I could. You can't buy this!
Where you inspired by Andrei's story?
Find all Master programmes in Management here