Imran is currently pursuing his M.Sc. in Optoelectronics and Photonics Engineering at Koc University Istanbul. He found his study programme and enrolled with the help of StudyPortals. We asked Imran about his experience of searching and applying to a university abroad.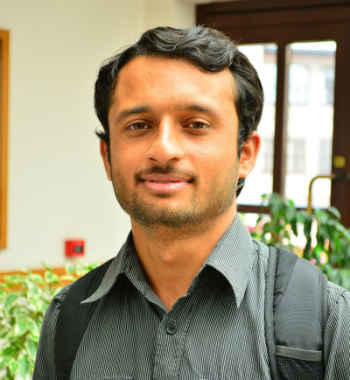 About you
Tell us a bit about yourself: What is your name? How old are you? Where are you from?
My name is Imran Khan. I'm going to be 25 by 20 Feb 2015 and I am from Pakistan.
Where are you studying now? In which university and programme are you enrolled in? What degree and how long is your programme?
Currently, I am doing a Master of Science in Optoelectronics and Photonics Engineering at Koc University Istanbul, Turkey. It's my third semester and hopefully, I will be graduating by summer 2015.
Why did you want to study abroad?
I want to be a researcher in the field of Photonics. That's why I chose to take my higher studies abroad.
Searching for study options
How did you find your study programme? Why did you choose this particular university?
Well, I found the StudyPortals website last year when I was searching for scholarships. StudyPortals helped me find the appropriate university and a programme that interested me. I chose Koc University from all the options I had at that time because of an excellent program in Photonics, with a good scholarship package. Also, living in Istanbul was one of the great dreams I had in life.
Did you know about that university and/or programme before seeing it on StudyPortals?
No, I had not known this university before searching for it on StudyPortals.
On what stage of application were you using StudyPortals?
I used StudyPortals from the very beginning. It was StudyPortals which led me to Koc University and clearly helped me with finding programme requirements and the application deadline.
Deciding for a university
What were your main priorities when choosing your university and your programme (e.g. academics, accommodation, university services & facilities, personal & professional development, city & culture, cost & funding, practicalities, social life)?
First, there was the quality of the program, based on research findings. Secondly, the university ranking played an important role, followed by the scholarship package, lifestyle in the city in particular and the country in general.
Was it your first study choice? What other universities did you consider? What was the main reason for your final choice?
No, I had two more confirmed acceptances and one conditional at that time in Europe, but financial support was almost non-existent. When I compared the programmes offered by those institutions, Koc had far better programmes and ranked better in the world, so it was clear to me.
Did you already know from the start that you wanted to study in that particular country and city? Why did you choose this particular location?
No, I was not clear about which country I should consider, but finally, I landed here in Istanbul.
Did you do a language test (e.g. TOEFL, IELTS) when applying for the programme? If yes, which one did you choose, why and how was your experience with it?
Yes, I did TOEFL, as it is required for studies abroad most of the time. It was good and I scored better than the requirement for the university.
Recommendations
What would be your advice for students from your country that consider studying abroad?
I would definitely recommend a study abroad, as students will realize what is really happening in the field of Science and Technology. Once you jump into the world of scientific research, you will, first of all, realise the fast pace growth of technology and the challenges towards a more advanced technological world. Moreover, living abroad broadens your horizons in terms of social, academic and cultural life and you really start to better understand life. Making new friends, understanding and sharing cultures really help in making the world a global village.
How did you finance your stay abroad and what financial advice would you give to future students?
No doubt, there isn't anything better than getting accepted with the full scholarship for your studies. However, most people are financing their studies themselves and covering their own living cost in Europe. My suggestion would be to really strive to get a scholarship, just like I did. That will relieve most of your worries and let you focus on studies only. In self-finance cases one has to balance studies with a part-time job.
Why would you (not) recommend this particular city / university? How would you rate your experience on a scale from zero to ten (0 – It was a total disaster, 10 – I had the time of my life)?
I would definitely recommend Koc University as it has a good world ranking and many quality Engineering, Physics, Computer Sciences, Social Sciences, Law programmes and a world top ranked business school. I rank Koc University as among the best universities for graduate studies in the world.
Is there anything that you would do differently if you could do it over again?
Yes, that would be to go to the USA and just to experience the world class education there. But if I am given a chance to lead a family life, I would just say yes to Istanbul.
What was the biggest surprise in your study abroad adventure?
The life-style which Koc has given to me. It's awesome! I also really enjoy the high-quality academic life.
Were you inspired by the story of Imran Khan?