Muhammad Sohaib is currently pursuing his MSc. in Automation and Robotics programme at TU Dortmund. He found his programme and enroled with the help of StudyPortals. We asked Muhammad Sohaib about his experience of searching and applying to a university abroad.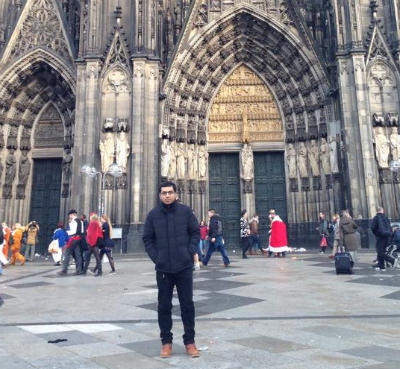 About you
Tell us a bit about yourself. What is your name? How old are you? Where are you from?
My name is Muhammad Sohaib Irshad. I am 25 years old. I am from Pakistan.
Where are you studying now? What university and programme are you enroled in? What degree are you pursuing and how long is your programme?
I am studying in Germany. I am enroled at TU Dortmund for an M.Sc. in Automation and Robotics. My degree is "Master of Science" and it is 2-years long.
Why did you want to study abroad?
I wanted to study abroad to have some international exposure as well as to understand how countries manage to keep ahead in terms of advanced research and technologies.
How did you find your study programme? Why did you choose this particular university?
I found my study programme by searching the internet and guess what? The first site I landed on was the one which had an answer to all my questions related to Master's courses in Europe. Yes, you guessed it right, that site was mastersportal.com. It had very useful features of filtering out your search results based on country, language, tuition fee and duration of the course, etc. I chose this particular university because of its good ranking as well as the choice of the electives which were being proposed in the course.
Did you know about that university and/or programme before seeing it on StudyPortals?
The simple and short answer is…NO!I used StudyPortals right at the beginning of the search.
Deciding for a university
What were your main priorities when choosing your university and your programme (e.g. academics, accommodation, university services & facilities, personal & professional development, city & culture, cost & funding, practicalities, social life)?
Academics, especially the worldwide rankings of the universities, personal & professional development, city & culture, cost & funding were the main priorities.
Was it your first study choice? What other universities did you consider? What was the main influencing factor of your final choice?
Actually, I was lucky enough to get admission in most universities I applied for. A tough decision to make when you have so many options! Nevertheless, ultimately I chose to focus on course content, ranking of the university and the costs of the study.
Did you already know from the start that you wanted to study in that particular country and city? Why did you choose this particular location?
Actually, I had narrowed down the search to the favourite course content, not a country or a city. Although country and the city have a major effect on your future decisions, nothing beats the excellence of the course content you are trying to pursue! After having decided to join TU Dortmund, I looked to the main attractions in Germany. I would like to point out that although the city of Dortmund looks a bit dull, in reality, this is the city which literally strives for excellence in helping the "Auslanders" (Foreigners) settle down and have fun!
Did you do a language test (e.g. TOEFL, IELTS) when applying for the programme? If yes, which one did you choose, why and how was your experience with it?
Yes, I did took IELTS exam before applying. It was compulsory to submit the IELTS certificate with the admission application. The experience was pretty bad with the "British Council" IELTS examinations authority. The management was VERY POOR in Pakistan. Ultimately I had to take "AEO" IELTS.
Book an IELTS test in your country!
Recommendations
What would be your advice for students from your country that consider to study abroad?
Just make your decision carefully, considering your long term goals. Once the decision is made, stand firmly in its favour.
How did you finance your stay abroad and what financial advice would you give to future students?
There is no tuition fee for most of the study programmes in Germany. I only had to consider living costs, which did not pose much of a problem. Nevertheless, there are numerous scholarships available. Just search for them and you will obviously get one if you have good reasons for looking for one.
Why would you (not) recommend this particular city / university? How would you rate your experience on a scale from zero to ten (0 – It was a total disaster, 10 – I had the time of my life)?
There is only the problem of accommodation, otherwise, the university management, as well as the teaching faculty, is good. I would rate TU Dortmund as six out of ten.
Is there anything that you would do differently if you could do it over again?
Yes, I would apply to a different university with more choices in courses related to the same field of Automation and Robotics.
What was the biggest surprise in your study abroad adventure?
My biggest surprise was the friendliness of the people everywhere I went. Germans are literally helpful and try to integrate foreigners in their society.
Were you inspired by the story of Muhammad Sohaib?