Irfan is currently pursuing his Master's degree in Electrical Engineering at University of Twente. He found this programme and enrolled via Studyportals. We asked Irfan about his experience of searching and applying to a university abroad.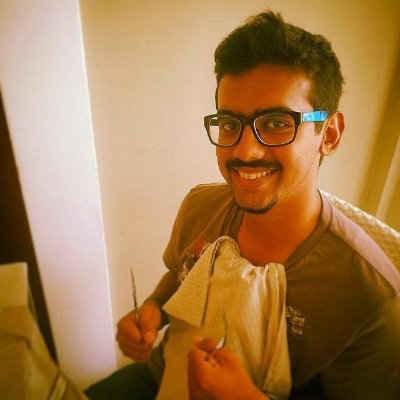 About you
Tell us a bit about yourself. What is your name? How old are you? Where are you from?
Hello. This is Irfan. You can call me Zayd. I am close to being 25 or Half Abraham as the Dutch would call it. I come from the southern part of India, Chennai.
Where are/were you studying and what programme? What degree and how long is your programme?
I got my Master's admission in Electrical Engineering at the University of Twente, Netherlands. This course is for two years. My stream is Neurotechnology and Biomechatronics and I deal with exciting courses: for example, model human gait and design prosthetics for the disabled.
Why did you want to study abroad?
My passion is in Rehabilitation Engineering. The institutions back home focus on services of existing equipment at the hospitals and not on building new devices. I wanted to improve my skills and knowledge in the field and use it to create opportunities to treat the disabled. The Neurotechnology and Biomechatronics department at the University of Twente offered what I was looking for, so I joined.
Deciding for a university
What were your main priorities when choosing your university and your programme (e.g. academics, accommodation, university services & facilities, personal & professional development, city & culture, cost & funding, practicalities, social life)?
The main focus of my research in choosing universities was the opportunities and research it offered. Assuming that major universities share resources to an extent, infrastructure was not my first priority, but was a deciding factor. I also weighted tuition fee and cost of living as higher factors. As moving abroad would invariably include culture shocks and adaptation to different diet, I was prepared to deal with it anyways and that was the least of my priorities.
Was this your first study choice? What other universities did you consider? What was the main reason of your final choice?
Yes, University of Twente was my first choice. Though it was expensive as compared to the others that I applied for, it had the stream that I was looking for. The other universities that I considered were University of Bern in Switzerland, University of Groningen in the Netherlands, University of Lisbon in Portugal, and Aachen University in Germany. The research at University of Twente really pulled me to it.
Did you know from the start that you wanted to study in that particular country and city? Why did you choose for this particular location?
No, I hadn't prepared to choose a particular country. I kept research as the first priority and assumed the rest would fall in place.
How did Studyportals help you in your decision process?
StudyPortals added a lot of value to my research about universities through Mastersportal.
It is quite easy to find a university in the U.S.A, as there are several websites and consultancies available. But to find a credible university in Europe was a challenge.
This is where Mastersportal made life easier. I could filter universities based on intake, tuition fee and courses offered. This made it really quick, the process of selecting universities that I wanted to. And thus, it made my list. The portal also gives a quick overview of the minimum requirements that the universities ask for. This also let me neglect universities that were too low or high for my standards. The option to view the language of the course was also very useful.
Did you take a language test (e.g. TOEFL, IELTS) when applying for the programme? If yes, which one did you choose, why and how was your experience with it?
The validity of the TOEFL results I took during my Bachelor's had expired by the time I started applying for universities and I had to retake the test. Scoring 113, I was happy. It made me confident while applying to universities. Preparing for TOEFL was easy as I had also given my GRE exam. The exam was a breeze and I had fun working with it.
Recommendations
What would be your advice for students from your country that consider to study abroad?
For people confused about opportunities abroad, I would recommend a quick walk-through on Mastersportal. It helped me clear several questions that I had about the universities and the differences in European and American way of studying. Also the filters give a quick glance on the available options before navigating to the university's page.
How did you finance your stay abroad and what financial advice would you give to future students?
I find that most universities offer scholarships and if you apply quite early, you are more likely to get it. I missed this opportunity and looking back, I feel that I might have been able to get a scholarship. I am currently funded by my parents.
Why would you (not) recommend this particular city / university? How would you rate your experience on a scale from zero to ten (0 – It was a total disaster, 10 – I had the time of my life)?
The research pulls everything to a good score. I landed here and made friends the first night. That was a nice welcome to the Netherlands. The people in this small town of Enschede are the sweetest I have ever come across. While working, if I sneeze, I hear 'Bless you' from all the neighboring rooms.
I would gladly give a 7.8 to this university and city combined.
Is there anything that you would do differently if you could do it over again?
I applied for the winter semester. Though this was a good idea, I failed to apply in time for the scholarship. If I had applied for the regular intake, I would also had the opportunity to explore several other options.
What was the biggest surprise in your study abroad adventure?
The survival of the locals on bread. Back home, every meal is special and complete. But here, the people get on with their lives with cheese between two slices of bread. This was quite a surprise for me.
Were you inspired by Irfan's story?
Find Masters in Electrical Engineering in Netherlands!