Albi is currently pursuing his Master's degree in Software Engineering at Maraldalen University. He found this programme and enrolled via Studyportals. We asked Albi about his experience of searching and applying to a university abroad.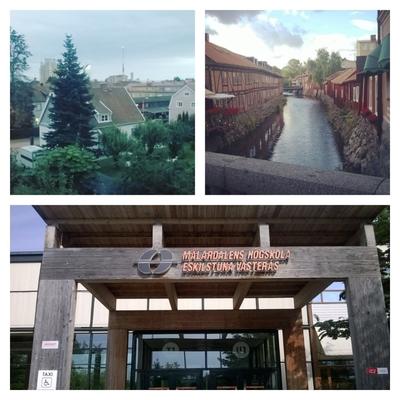 About you
Tell us a bit about yourself. What is your name? How old are you? Where are you from?
I am Albi Dode, I am 23 years old and I am Albanian.
Where are you studying now? What university and programme are you enrolled in? What degree are you pursuing and how long is your programme?
I am studying a two-years Master's programme for Software Engineering at Malardalen University in Sweden.
Why did you want to study abroad?
I wanted to study abroad as a chance to broaden my knowledge and to have the possibility to meet professors that are well known in the computer science area. Also, studying abroad gives you the opportunity to feel the real western culture.
Deciding for a university
What were your main priorities when choosing your university and your programme (e.g. academics, accommodation, university services & facilities, personal & professional development, city & culture, cost & funding, practicalities, social life)?
I chose Malardalen as it is a well-known university regarding the acceptance of international students. It is part of many European projects and many more. The university is also closely related to the industry, which in the end made me seriously consider it.
Was this your first study choice? What other universities did you consider? What was the main reason of your final choice?
It was my first choice among other choices I had in Germany and Italy. As I applied for an EuroWeb+ scholarship, I got accepted at Malardalen, as it was my first choice. I really wanted to study in Sweden, as this is a place where many startups offer the students the possibility to better show their talent.
Did you know from the start that you wanted to study in that particular country and city? Why did you choose for this particular location?
I knew it I was going to study in Sweden, but not the specific city as my university has two campuses.
How did Studyportals help you in your decision process?
Studyportals helped me by viewing different scholarship options and to get a general info about the university.
Did you take a language test (e.g. TOEFL, IELTS) when applying for the programme? If yes, which one did you choose, why and how was your experience with it?
I have both TOEFL and IELTS and both with very good results, even though English is not my native language. It was a good experience as it have been more than 15 years that I have been speaking English and I knew that I would get good results in both of them.
Book an IELTS test in your country!
Recommendations
What would be your advice for students from your country that consider to study abroad?
My advice would be that studying abroad not only gives you more knowledge and offers the possibility to see beautiful cities, but it is also a real life changing experience as you learn about new cultures and new people.
How did you finance your stay abroad and what financial advice would you give to future students?
I got a scholarship from EuroWeb+ and would advise students to keep an eye on the scholarship opportunities.
Why would you (not) recommend this particular city / university? How would you rate your experience on a scale from zero to ten (0 – It was a total disaster, 10 – I had the time of my life)?
Västerås might be a small town but the people are really nice and everyone there can help you for your concerns.
Is there anything that you would do differently if you could do it over again?
I should have applied earlier for a scholarship opportunity during my Bachelor years.
What was the biggest surprise in your study abroad adventure?
The campus was very big. I have to keep track where the rooms are.
Were you inspired by Andes's story?