Shoaib is currently pursuing his Master's degree in Sustainable Production in Mechanical Engineering at Lappeenranta University of Technology. He found this programme and enrolled via Studyportals. We asked Shoaib about his experience of searching and applying to a university abroad.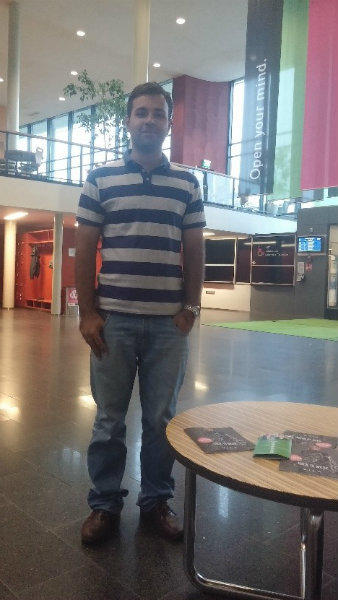 About you
Tell us a bit about yourself. What is your name? How old are you? Where are you from?
My name is Shoaib and I am from Pakistan.
Where are you studying now? What university and programme are you enrolled in? What degree are you pursuing and how long is your programme?
I am studying M.Sc. Mechanical Engineering (Packaging Technology) at Lappeenranta University of Technology, Finland. The programme has a 2-years duration.
How did you find your study programme? Why did you choose this particular university? How did StudyPortals help you?
The quality of education and programme offered fits my interests.
Deciding for a university
What were your main priorities when choosing your university and your programme (e.g. academics, accommodation, university services & facilities, personal & professional development, city & culture, cost & funding, practicalities, social life)?
The main priority was the structure of degree and how it helps to secure better opportunities afterwards. Furthermore, the rank of the university mattered a lot. Last but not least, I think the individual profiles of faculty members and their capabilities, as well as the level of ongoing research matters, too.
Was it your first study choice? What other universities did you consider? What was the main reason of your final choice?
My choice was one of my most suitable options, because the programme offered is hard to find elsewhere. I didn't know for sure which university would be best suitable, it's the research and on-hand experience of my seniors which guided me to choose for a particular programme.
In addition, Studyportals is an excellent platform which helps students search and compare different programmes, while providing accurate information. It constantly reminds you of the programmes of your interest that are being offered in different institutes, to be able to apply well before deadline.
Did you take a language test (e.g. TOEFL, IELTS) when applying for the programme? If yes, which one did you choose, why and how was your experience with it?
I chose to take the IELTS language test for English: it is a must if you want to apply anywhere in world where the language of instruction is English! It was a very good experience and I found the evaluation to be quite fair.
Book an IELTS test in your country!
Recommendations
What would be your advice for students from your country that consider to study abroad?
I would advise everyone to search for opportunities, know their interests and keep in mind the future aspects before applying.
How did you finance your stay abroad and what financial advice would you give to future students?
There are a lot of scholarship opportunities for studying abroad, which evaluate students on different scales. Keep in mind the deadlines and confidently apply!
Why would you (not) recommend this particular city / university? How would you rate your experience on a scale from zero to ten (0 – It was a total disaster, 10 – I had the time of my life)?
I would surely recommend LUT. It is an amazing experience, which I would rate with 8. I am really enjoying it so far.
Is there anything that you would do differently if you could do it over again?
If I would have to do it again, I would surely be strict with the deadlines next time.
What was the biggest surprise in your study abroad adventure?
What really surprised me during this endeavor was to see the collaboration of universities and industry: apart from lectures, students gain practical experience through a multitude of projects.
Were you inspired by Shoaib's story?