by Hendriek Bartelds – ISIC Nederland
ISIC is the only internationally accepted, UNESCO endorsed proof of student status. Next to that, the ISIC offers over 40.000 different discounts, services and benefits both locally and across the world! Student life gets easier with an ISIC.
Take it with you wherever you go: from your daily coffee, the laptop you use in college, to the software on that laptop, the house you live in, the gym you go to, the food you eat and the transport you take. It's all cheaper and better with ISIC! Not only in the country you live, but also 130 other countries worldwide. ISIC is not only a great companion at home, but also a perfect travel buddy!
Check out student life with ISIC
ISIC doesn't like borders
It's not all about discounts at ISIC. Since 1953, we have aimed to improve intercultural understanding, increase educational opportunities and facilitate student life across the globe. To achieve our goals have been endorsed by UNESCO and we constantly work on partnering up with educational institutions and benefit partners to help us achieve our goal.
Originally, the ISICcard was a student identity card that gave full-time students world access to special discounted airfares. In order to get discounted airfares, students bought an ISIC card allowing cardholders to explore the world and discover new countries and cultures.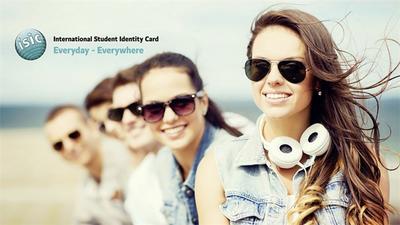 Today, the portfolio of benefits and discounts accessible with the ISIC card goes far beyond travel alone. The ISIC card is now also an everyday use student lifestyle card. Cardholders still enjoy discounts and services on travel opportunities. On top of that, students gain preferential access to over 42,000 products, services or experiences in every stage and area of student life, both at home and abroad.
International discounts with ISIC
ISIC for full-time students
So for who is ISIC? Everybody who is older than 12 years old, and studies at a college or university for more than 15 hours a week can get an ISIC! The ISIC is valid for 12 months after the purchase. You can get your ISIC online for just 15 Euros (in the Netherlands). There are many discounts where you already got the price of the ISIC back after one purchase.
10 reasons for ISIC
Enjoy your student life with ISIC! To sum it all up there are at least 10 good reasons to get ISIC.
The International Student Identity Card (ISIC) is the only internationally accepted proof of bona fide student status.
An ISIC card is your passport to more than 40.000 fantastic benefits and services all over the world.
ISIC is valid in more than 130 countries all over the world.
ISIC is endorsed by UNESCO and local governments.
ISIC is a 'non-profit' organisation that works to get the most out of your student life.
Become part of the ISIC network: there are more than 5 million students with an ISIC card.
Universities co-brand their student card with ISIC to get worldwide validity.
Save money at home and abroad. Everyday - everywhere. The amount of discounts is still increasing!
ISIC is available for all full-time students from 12 years old.
Your ISIC card has a validity of 12 months after your purchase.
Check out student life with ISIC
Preview of the ISIC discount portfolio
This would be a never-ending list if we would sum up all discounts. So just to get an idea what your student life would be like with ISIC we will give you a peek into the world of discounts with ISIC:
Study
With ISIC you get help with your TOEFL and IELTS tests. You can learn German and English with discount, but also can get help with your thesis with a discount. Studying was never so easy!
Travel
Book flexible and cheap flights at KILROY with ISIC. You can book simple flights, but also round the world tickets. Within Europe, take the IdBus, great for city trips! If you are in town, book yourself a BimBimbike, get an Uber or take a hop-on-hop-off bus to explore it all.
Culture
Go all out in the Netherlands and visit the Royal Palace, Rembrandthuys and cycle around Amsterdam with a discount. Go on a canal tour or to the Tropenmuseum. All with a very nice discount. When you go abroad the possibilities are endless.
Food
Enjoy a lazy day and order your food at Thuisbezorgd with a 3 Euro discount. If you prefer to go out for dinner and get the best fries ever, visit the well-known Par Hasaard restaurant in Amsterdam. And the Hardrock Café serves ISIC meals!
Sports
Did that food end up in your love handles? No worries, because with OneFit you can work out everywhere in Amsterdam and Den Haag. Or rent some skates to skate to the climbing wall – with good discounts of course!
Fashion
Online shopping is a mayhem with ISIC. Shops like Forever 21, Boohoo.com, Missguided and Zalando offer great discounts. You can get the newest sneakers at Frontrunner and awesome headphones at Urbanears. If you want a matching boxershort with all of that, we have a discount for you in the BjörnBorg webshop.
Computer
ISIC has lots to offer when it comes to hardware and software. Think about laptops and tablets from big brands. Get your Microsoft software on them. Do you need software like SPSS, internet software or a virus scanner?
Look at our website. It's all there!