Jose is currently pursuing his MBA in Sports Business at the University of Oregon. Studyportals helped him in his decision process. We asked Jose about his experience of searching and applying to a university abroad.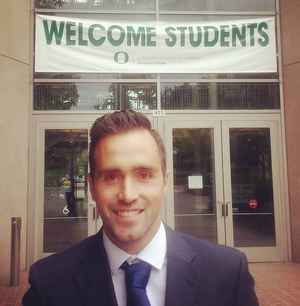 About you
Tell us a bit about yourself. What is your name? How old are you? Where are you from?
My name is Jose Campos, I am 27 years old and I am originally from Seville, Spain.
Where are/were you studying and what programme? What degree and how long is your programme?
I am studying Sports Business MBA at the Warsaw Sports Marketing Center in the University of Oregon, U.S. This particular MBA and its specialization takes 2 years to complete.
Why did you want to study abroad?
It was a matter of the level and quality of the education. The U.S. in general and the University of Oregon in particular have a better Sports Business programme than what my country could have offered to me.
Also, studying in my second language was a challenge that I wanted to tackle.
Being in the West Coast of the U.S. also helps me to improve my networking worldwide and I believe that one of the ways that you can learn the most is by sharing experiences and combining skills with people from all over the world. Diversity is always a plus and I found that here.
Deciding for a university
What were your main priorities when choosing your university and your programme (e.g. academics, accommodation, university services & facilities, personal & professional development, city & culture, cost & funding, practicalities, social life)?
My main reason, as I said before, was the quality of the programme; I wanted to be in a top 10 worldwide programme in Sports Business.
Among those different top 10 options I decided to come to the University of Oregon because they made me feel comfortable from the first day that I showed interest in the programme. Inside the sports industry, I am specialized in soccer and the Mid West in the U.S. is one of the regions of the world where soccer is growing faster and I wanted to be part of it.
Was this your first study choice? What other universities did you consider? What was the main reason of your final choice?
Yes, it was. I wanted to come here and if my application had been rejected I would just have waited another year.
Did you know from the start that you wanted to study in that particular country and city? Why did you choose for this particular location?
From the start I had no idea in what country or city I wanted to study. I did some research of which one were the best Sports Business programmes and I made a decision based on reputation of the programme plus personal and professional development regardless in what location the programme was.
I had some informal interviews with my final candidates during some MBA fairs and after having the chance of talking with someone from the university face to face the decision was easier to make.
How did Studyportals help you in your decision process?
It was a helpful tool in order to compare different programmes and universities.
Did you take a language test (e.g. TOEFL, IELTS) when applying for the programme? If yes, which one did you choose, why and how was your experience with it?
I took the TOEFL test. I chose this one because to study in the U.S. is the one that all the universities ask for it. I had lived in the United Kingdom and in the United States during 6 years prior to take this test so it was more a thing that I had to do than a challenge.
I totally recommend preparing those test well, especially if your English level is not very high. Your application can be rejected only because of it.
Recommendations
What would be your advice for students from your country that consider to study abroad?
To go for it! Do not hesitate in doing it because it is away from home or hard. Be prepared to leave your comfort zone and push yourself to complete this sort of challenges. It will totally pay off in your future. Prepare well for the language test. The better your English knowledge is, the easier all the process will be. If you want to study a MBA course then also prepare yourself pretty well for the GMAT test.
How did you finance your stay abroad and what financial advice would you give to future students?
I have a loan from the bank that I will start paying it back once I finish my programme. My advice would be to get informed about this from the very beginning. Some countries have more options than others so if you are from the United States or the United Kingdom where getting student loans is a common thing to do, you will not have a problem. If you come from my country, Spain, you will need to do more research and visit more bank advisors before you make a final decision. It's not easy and it takes time, but it is possible.
Why would you (not) recommend this particular city / university? How would you rate your experience on a scale from zero to ten (0 – It was a total disaster, 10 – I had the time of my life)?
I have not finished yet but so far my experience has been a 9 out of 10. I would recommend the University of Oregon because of how they will treat you. They will make you feel part of a family from the first day and they will help you in any problem that you might have. The alumni's networking is also a big plus.
Is there anything that you would do differently if you could do it over again?
I would have studied longer and harder for the GMAT. If I had a better GMAT scored I could have received a better scholarship.
What was the biggest surprise in your study abroad adventure?
How different the education system is from my country. The resources and facilities that top school have are an incredibly useful tool in order to achieve your goals and also makes your personal life easier.
Were you inspired by Jose's story?