Royal Tropical Institute (KIT) Amsterdam, Netherlands: Study experience of Rizki
Student experiences
Rizki is currently pursuing her Master programme in International Health at Royal Tropical Institute (KIT). She found her programme and enrolled via Studyportals. We asked Rizki about her experience of searching and applying to a university abroad.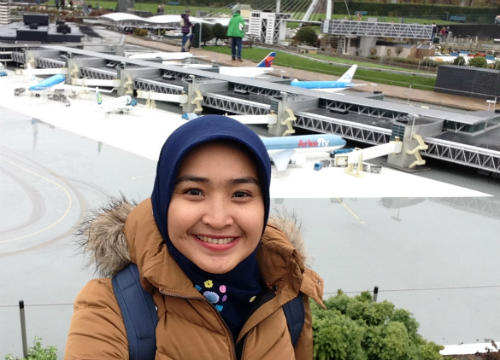 About you
Tell us a bit about yourself. What is your name? How old are you? Where are you from?
My name is Rizki Anindita. I am 29 years old now. I come from Yogyakarta, Indonesia. I am a medical doctor.
Where are you studying now? What university and programme are you enrolled in? What degree are you pursuing and how long does your programme last?
Right now I am studying at Royal Tropical Institute (KIT) Amsterdam, The Netherlands. I enrolled in a Master's of International Health programme. It is a postgraduate programme which can be completed full-time or part-time. For myself, I chose the full-time one-year study.
Why did you want to study abroad?
I chose to study abroad, not only because of the quality of the programme/university, but also the life experience that I can develop while studying abroad. For example, in my course I could meet people from all the continents. I have the opportunity to learn from their knowledge and their personal experiences on the field that I am really interested in. The opportunity to experience life in a different country, the weather, the beautiful city, are very much worth the experience abroad.
Searching for study options
How did you find your study programme? Why did you choose this particular university? How did StudyPortals help you?
I found the programme by searching on Google, and it lead me to some universities. Then, I also found Studyportals.com which covered extensive programme information from many universities. On StudyPortals I could find more thorough information from the university website link. The reason why I chose this university is that the programme offered suites my topic of interest.
Did you know about that university and/or programme before seeing it on StudyPortals?
Yes, I did.
On what stage of the application were you using Studyportals? Did you miss any important information on Studyportals?
I used Studyportals from the beginning of application process, when I was looking for a programme that was suitable for my interests. As far as I remember, I did not miss any information on Studyportals.
Deciding for a university
What were your main priorities when choosing your university and your programme (e.g. academics, accommodation, university services & facilities, personal & professional development, city & culture, cost & funding, practicalities, social life)?
My main priority was academics as well as personal & professional development, then the possibility to get funding/scholarship for the programme I selected, and studying in an English-speaking country. Even though in the Netherlands they speak Dutch, many people speak English very well.
Was it your first study choice? What other universities did you consider? What was the main reason of your final choice?
Yes, it was. I considered Erasmus University and London School of Hygiene and Tropical Medicine, but the programme at Royal Tropical Institute was more suitable for my personal and professional development.
Did you know from the start that you wanted to study in that particular country and city? Why did you choose for this particular location?
Yes, I did. I chose the Netherlands because even though I can understand their language just a little, they could answer me back if I spoke in English. Former students from Indonesia said that it was a friendly country for us. Amsterdam is a big city, with great social life and lots of entertainment. I think you can have a lot of fun the whole year.
Did you take a language test (e.g. TOEFL, IELTS) when applying for the programme? If yes, which one did you choose, why and how was your experience with it?
I already had an IELTS test a year before I enrolled in the programme. I chose IELTS because I am more familiar with the test. It was a challenging test, but if you practice, you will do fine.
Book an IELTS test in your country!
Recommendations
What would be your advice for students from your country that consider to study abroad?
Choose the programme that suits you best. If it is possible, choose one with an opportunity to get funding/scholarship, maybe scholarship form your own country, or from the university itself. Prepare for your language requirements in advanced. It will cost you some money, so you should try to take it only once.
How did you finance your stay abroad and what financial advice would you give to future students?
I got a full scholarship for this study. My advice would be the same as above, always look for opportunities to get funding/scholarship.
Why would you (not) recommend this particular city / university? How would you rate your experience on a scale from zero to ten (0 – It was a total disaster, 10 – I had the time of my life)?
I would rate my university an 8. The city itself, maybe 9. I think I would give 8 to my overall experience, until now.
Is there anything that you would do differently if you could do it over again?
No, I don't think so.
What was the biggest surprise in your study abroad adventure?
The biggest surprise was when I had the news about the scholarship, and that I should prepare for my departure to Amsterdam soon. A nice moment to remember.
Were you inspired by Rizki's story?