Baplu is currently pursuing his MSc. Molecular Science at Friedrich-Alexander University of Erlangen-Nurnberg. He found the programme and enrolled via Studyportals. We asked Name about his experience of searching and applying to a university abroad.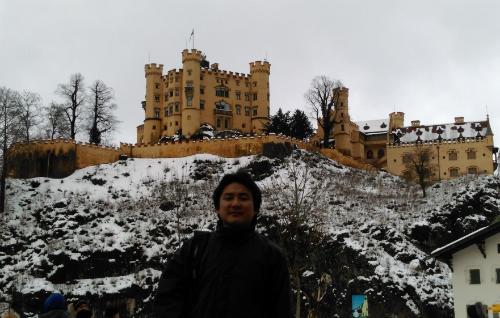 About you
Tell us a bit about yourself. What is your name? How old are you? Where are you from?
My name is Baplu Rai from Nepal. I am 25 years old.
Where are you studying now? What university are you attending and what programme are you enrolled in? What degree are you pursuing and how long is your programme?
I am studying at Friedrich-Alexander University of Erlangen-Nurnberg,Germany. I have been enrolled in a MSc. in Molecular Science. Basically, my programme length is two years, but I am allowed to take fast track mode to complete it within one and half years.
Why did you want to study abroad?
Because of the facilities and education quality during study and the opportunities after completion study. I chose Germany because students don't have to pay tuition fees and this is the huge financial relief for a student like me who comes from a middle-class family.
Searching for study options
How did you find your study programme? Why did you choose this particular university?
I used this website to find my course of study. This university offers quality education with cutting edge technology. The university is student friendly as well.
Did you know about that university and/or programme before seeing it on Studyportals?
I got to know about this university only after using Studyportals.
On what stage of application were you using Studyportals?
I used this portal from the beginning of my application process, and I suppose I didn't miss any important information so far.
Deciding for a university
What were your main priorities when choosing your university and your programme (e.g. academics, accommodation, university services & facilities, personal & professional development, city & culture, cost & funding, practicalities, social life)?
I chose this university because I found the course is more similar to my interest and living expenses aren't high.
Was it your first study choice? What other universities did you consider? What was the main reason of your final choice?
I was considering other universities in Europe and USA, but the financial reason and structure of course design attracted me to this university.
Did you already know from the start that you wanted to study in that particular country and city? Why did you choose this particular location?
Yes, I wanted to study in Germany, but I was considering studying in universities in the USA.
Did you do a language test (e.g. TOEFL, IELTS) when applying for the programme? If yes, which one did you choose, why and how was your experience with it?
I took the IELTS test and I suppose it's easy for students to get a good score if they try really hard.
Book an IELTS test in your country!
Recommendations
What would be your advice for students from your country that consider to study abroad?
Many prospects are interested in studying abroad, so consider applying to different universities. But before applying, research the country thoroughly. If you are planning to study in a country where English is not a first language, then learn their language. Good command of the language, especially in Germany, is very helpful to get a good job. English is a must, but Deutsch (German) is a plus.
How did you finance your stay abroad and what financial advice would you give to future students?
I had a bank balance before coming to Germany, as it was necessary to get a visa. Currently I am working in a restaurant.
Why would you (not) recommend this particular city / university? How would you rate your experience on a scale from zero to ten (0 – It was a total disaster, 10 – I had the time of my life)?
I would rate my experience a 7.
Is there anything that you would do differently if you could do it over again?
I would like to study a Bachelor's programme again.
What was the biggest surprise in your study abroad adventure?
First, the lab instructions course, because they explained the whole thing in the German language. However, they explained us in English afterwards.
Were you inspired by Baplu's story?